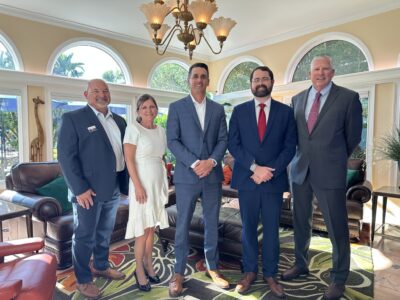 Headquarters based in Venice, FL, The Hanley Homes Group is a premier real estate marketing & advertising agency for some of the most affluent properties and developments for sale, both nationally and internationally. Independent agents and brands look to The Hanley Homes Group to help them market their listings locally and worldwide by executing the entire marketing campaign for the property in multiple countries, languages and currencies.
Kevin Hanley the President, he is a Premier Home Specialists who has built a national and international team of highly-qualified, experienced and driven Partner Associates, who are Premier Home Specialists in each of their dedicated cities throughout America and the world. This team has allowed them to develop a network of Hanley Homes Group sellers and buyers that span the globe due to a very unique and innovative technique in marketing property and demographic targeting.
"Many agents today will tell the client they know how to market property both nationally and internationally, yet have nothing to show the client how they plan to execute it. We have taken this on for the clients who hire us, so they can feel confident that they are represented at they highest level with the premier real estate group, The Hanley Homes Group, in marketing their property globally." – Kevin Hanley
Mission Statement
The mission of the Hanley Homes Group is to provide the premier customer service experience for each home seller and home buyer we work with. Knowledge we've gained through years of working in the local market empowers us to provide our home buyers and sellers with the advice they need to make informed decisions. Whether it's selling a home, searching for a home, or negotiating a contract, each member of the Hanley Homes Group is an experienced real estate professional who applies their expert skills to each step of the process to help each client achieve an outstanding result.
Vision Statement
The Hanley Homes Group values teamwork and collaboration to create a WOW experience for every person that we come into contact with.
Values
Accountable, Caring, Communication, Ethical, Integrity, Service, Teamwork
Perspective
A real estate team of dedicated professionals focused on providing the best quality service for our customers. Hanley Homes Group's clients are our family, and we act in their fiduciary interests to make sure they achieve their real estate goals. We pride ourselves on integrity, excellent service, effective communication, and positive outcomes.